Have Your Event or Special Function at The ELMS!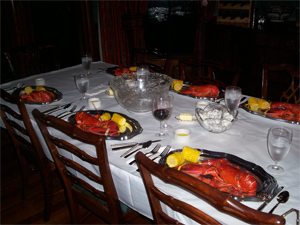 Established in 1882, The ELMS INN is a graceful historic property overlooking the Presumpscot River. With it's classic architecture, well appointed rooms and amazing public spaces, it's a beautiful place for your next event or function.
Just outside the hustle and bustle of downtown, The Elms Inn is also convenient to the airport and Interstate.  It's a great place to book Corporate functions and Retreats, Dinner parties, Weddings, Reunions, Fundraisers, Holiday parties, and special functions.
For Weddings
Be it the Wedding itself, the Rehearsal dinner, or Bridal Shower (or even a baby shower).  If you're looking for a venue, formal or casual, with an intimate feel this just might be your spot.   You provide the caterer (or cater yourself), we'll provide the location with atmosphere.
For Business
When the right setting is important or a change of venue is called for The Elms Inn might be just the place.  The dining room that seats 18 can convert into a board style business roundtable or presentation room.  The billiard room and lobby can serve for that casual break in the action or cocktail reception.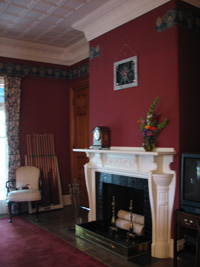 For Parties
Anniversary parties, Holiday parties, Birthday parties, Fundraising, Political event, etc.  When you just don't have the space and are looking for a non-commercial elegant yet casual venue The Elms Inn is the spot.
For Reunions and Get Togethers
Consider getting your whole family together, or a collection of like-minded friends.  Those that enjoy, or have experienced, common interests or activities are welcomed at The Elms.  Foodies for a weekend of cooking, bikers wanting covered and locked places for their bikes as they pass through Southern Maine.  Attending one of Portland's special events weekends?  Bring a group.  Enhance the event by staying together!  Should you book the whole Inn there will be no extra charge for your private use of the function rooms and common area.
You will love the low cost.  The caterers will love the commercial kitchen.  The guest will love the setting and atmosphere.
The Elms harkens back to a gentle, bygone era.  Check out our common spaces and rooms.
If you have never been here before or just want to see what's changed, give us a call at 207 854-4060 to discuss your plans and to arrange for a private preview or visit our contact page.