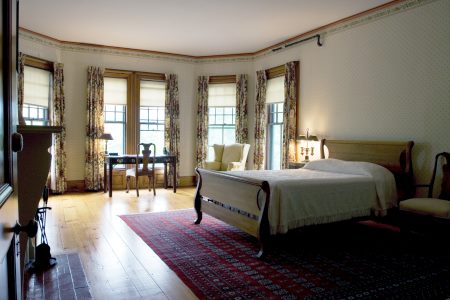 Your first impression of this 16 by 24 foot room is the grandeur of its size, followed by the comfort created by its warm honey colored soft pine wood floors. There is a queen sized sleigh bed dressed with an Abraham Lincoln styled bedspread, wingback chair, and writing desk. The six and a half foot high bay windows provide plenty of sunlight in addition to the view directly overlooking the Presumpscot River. The paneled doors, exaggerated mop boards, natural stained windows – all naturally finished, along with a decorative fireplace, finish out the classic, yet warm, comfortable feel of this room. Private bath with shower/tub combo.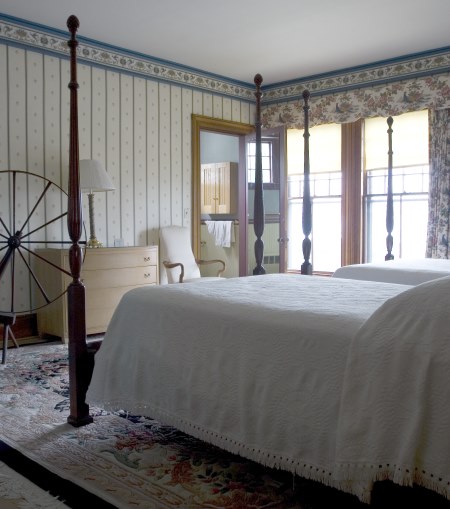 The pineapple is the symbol of hospitality, and in the Cumberland Room, you will find the pineapple on the stunning beige wallpaper as well as on the finials of the two queen-size Queen Ann four-posted beds, dressed with Martha Washington style bed spreads. This spacious room with 10-foot high ceilings also features a decorative fireplace, upholstered chair and 16 by 12 foot hooked style Oriental rug.  Private bath with shower.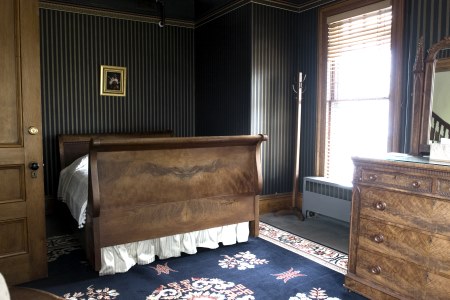 The centerpiece of this lovely room is a walnut split-veneer full size sleigh bed, believed to be original to the property circa 1880. Not only do the headboard and footboard match identically, there is a companion five-drawer dresser with the same exact split walnut veneer, sporting an ornate mirror. The walls have handsome blue and gold wallpaper, accented with a real gold leaf framed picture.  The soft wood painted floor is covered with an oriental rug.  There is a nice sitting area with a wing back chair and glimpses of the river out of some of its 5 windows.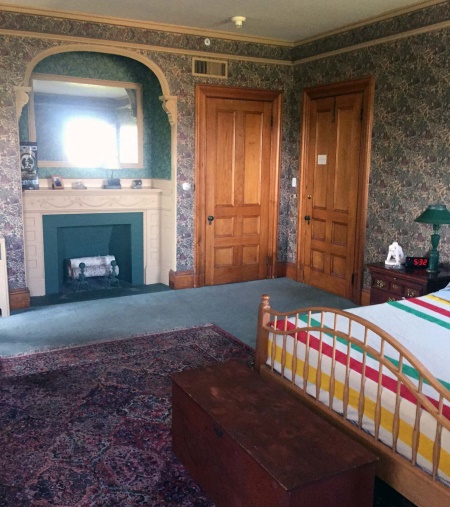 This large, spacious room welcomes guests to enjoy the plethora of natural light let in through four oversized windows. From the peaceful relaxation of the room guests can see the Presumpscot River. There is a maple Shaker queen-sized bed, along with a decorative fireplace and mantle, a genuine bedroom chest, and matching nightstands. The meticulously detailed finish trim and wallpaper accentuate the room, providing it a comfortable, nostalgic feel. Relax in true classic style, in the warm colors of natural light and the sights of river life.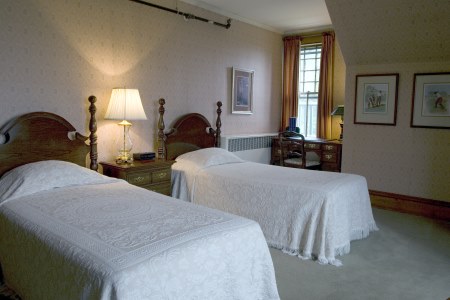 So named because this room gives the feel of a room in a classic Maine island or lake cottage, the Cottage Room houses two twin beds, a corner nook with a writing desk, and under the eaves are a loveseat and coffee table. Natural wood finishes and pastel colors give this room that light faded feeling of years past. This sun-drenched room has spectacular river views from all windows.
Currently Unavailable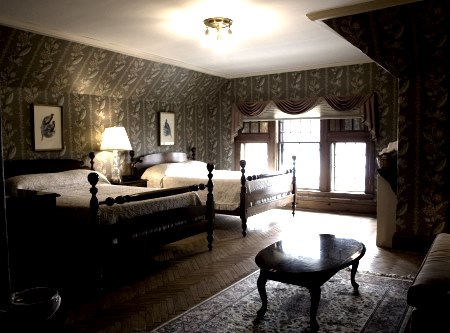 A spacious room with herringbone parquet hardwood floors, the Mill Room features two full-sized cannon ball posted beds plus one twin bed with Abraham Lincoln styled bed spreads, as well as a nice sitting area with a couch for two, end table, and coffee table. Although this room has floral wallpaper, it is muted in color and the room has a definite masculine feel. No fluffy, frilly pillows, tchotchkes, and clutter here, or anywhere in The ELMS.
Currently Unavailable
This room boasts a picturesque view straight down the Presumpscot river with a distant view of an old railroad trestle bridge that reflects in the water in the evening sun. This room contains a queen-sized bed, a sitting area with wingback chair, a coffee table, and leather ottoman. The eaves in the ceiling are finished with wood beams.
Currently Unavailable
Small, but cozy. The nooks, crannies, and eaves give a great sense of comfort, thus the name. Our smallest and most affordable room, the Cub Cave is nicely decorated with Hitchcock furnishings throughout; including two chairs with rushing seats, lamp, bedside stand and single twin size bed. Finishing out the room is a writing desk, library style bookshelf, and two braided area rugs.
Currently Unavailable